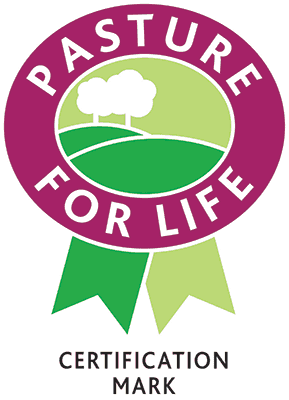 PFLA – Pasture for Life
We want to encourage honesty and transparency within this industry and to do so we have teamed up with the Pasture Fed Livestock Association who have beyond doubt the most comprehensive traceability system of any of the 'standards' likely to be found on sheep meat and beef products. All our grass fed lamb, grass fed hogget, grass fed mutton and grass fed beef comes with the 'pasture for life' label.
Each pack of meat comes complete with a QR code that will take you to details of the animal, farm of origin and place of slaughter.
Again by default and by conformity, the animals produced under the 'pasture fed for life' label will be reared in exceptionally high welfare conditions doing what nature designed them to do; walk around in fields eating grass!
Due to the carbon sequestration benefits of pasture, animal rearing systems based on pasture that do not include the use of grains or in-organic fertilisers will be very environmentally sustainable.