The Farm:
Model Farm is based near Ross on Wye in Herefordshire. The farm is 'pasture for life' certified and all the animals are transported to a local abattoir. The meat is cut by Model farms own butchers, in a new purpose built unit

The Team:
Simon Cutter is the founder of Model Farm. He studied at Cirencester Agricultural College between 1977-1980 and has learnt and practised traditional farming for over 30 years.  Simon has pioneered rearing Organic livestock and his passion for Organic meat started long before the BSE crisis, in the early 1990′s.
Andrew and Martin are the resident butchers at Model Farm. Martin has been a butcher locally for over 30 years and Andrew has been with the Model Farm team for over 5 years, and has been trained by Martin.
Model Farm also employs several others to run their on-site farm shop and to help get all your lovely orders packaged on time.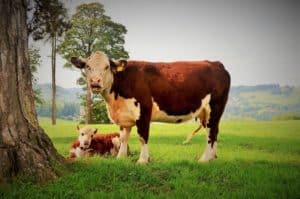 The Animals:
Model Farm is home to a herd of 270 Hereford Beef Cattle and 400 Easy care ewes on sustainably managed grassland and forage crops. Simon's cattle and sheep are 100% pasture fed and receive NO grains. Model Farm is managed to soil association standards for Organic status, the land receives no in-organic fertilisers or sprays and a forage crop rotation system produces natural organic foods for any winter feeds required.
'Easy Care' is a breed of sheep ideally suited to this topography and organic management system. They require minimal management and even shed their own fleece, so don't require shearing. The torpedo shaped head of the lambs allows for easy lambing and Simon's careful selective breeding program has led to the health of the flock to be nothing less than exceptional in the absence of routine medical intervention. The sheep require a small amount of supplementary feed in winter and this is provided by way of a home grown red clover hay.
Of the 270 Cattle, 100 hundred are breeding cows, the health of the herd is outstanding and the vet visiting is a very rare occurrence. There is NO routine medicines used and Simon maintains, that with extensive healthy grassland and soils, the cows and sheep receive all the nutrients they need to stay healthy from the diverse range of plants they eat.
The Hereford breeding stock stay outdoors on pasture, all year round. Hereford Cattle are a hardy traditional British breed originating in this area so are ideally suited to its climate and terrain. The young stock usually come in for the wettest parts of the year to avoid poaching the delicate grassland. Indoors the young stock will be bedded on local straw and fed Lucerne silage. Lucerne is a green, nutrient dense plant that grows very deep roots, it can access reservoirs of minerals not normally available to normal grasses and is considered a 'superfood'.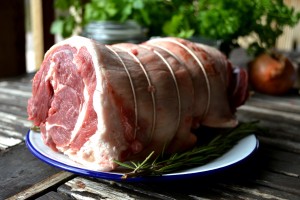 The Beef is outstanding, due to the diet of the cattle consisting only of natural herb rich plant matter and organic home grown super foods. The animals are getting all the minerals and vitamins they need and these will naturally pass on a range of these beneficial nutrients to you. The beef is dry aged for a minimum of 21 days.
Top Products from Model Farm: