What is even more alarming is the clear correlation between a rising intake of n-6 and increased mortality from heart disease. An Australian study looked at the effects on healthful fats in the meat of animals that were fed to three groups.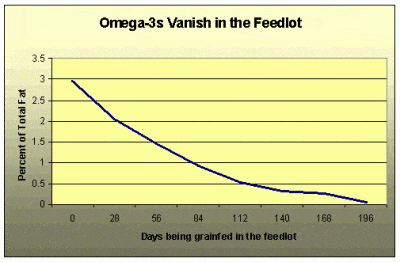 1) 100% pasture diet 2) fed for 80 days on a grain ration 3) 120 plus days on a grain ration
The result was that only the grass fed group contained the levels of omega-3 (30mg of long chain n-3 FA/100g muscle) required by the food standards agency for the food to be considered a source of omega-3 fatty acids.
This picture illustrates how quickly animals removed from pasture and fed rations lose their valuable omega-3.
It is simply not good enough to assume that it has been 100% grass fed.
Grass fed beef is 2-3 times higher in CLA a powerful anti-oxidant
Although it is unlikely that any saturated fat is of concern to your health – please note grass fed beef contains a higher proportion of stearic acid, which even the mainstream scientific community acknowledges does not raise blood cholesterol levels.
So it is clear, unless it is stated that it is 100% Grass Fed, or it carries a label such as the 'Pasture for Life' that guarantees such standards, then be VERY suspicious.
It is always worth asking your meat supplier 'do the animals that produce your meat receive ANY grain feeds?'
Don't be a sucker and fall for the newest marketing trick. Support farmers and retailers that are selling GENUINE 100% grass fed, delicious nutritious meat.
The Sustainability issue
GM Soya!
Unless you buy '100% grass fed meat' then you can be fairly sure that the meat you eat will have been fed cereal grains – most UK animal feeds contain high volumes of soya.
Many meat companies will declare that their 'grass fed' products may get a small amount of 'natural' grain in the winter. This usually means the same thing – they are finished on cereals that probably includes soy meal.
Only if you buy 100% grass fed or 'pasture for life' certified meat  can you guarantee it has not been fed grains. Similarly, even buying organic means the animals may have been grain fed the only difference being they are not allowed to be given GM feeds.
The UK imports 1,075,000 tonnes of soya. 70% of this comes from South America.
The WWF says "Rapid growth in the demand for soy destined for animal feed is a key driver for clearing significant forests, savannah and grasslands, including the Amazon, Cerrado, Atlantic Forest, Chaco and Chiquitano Forest that cover most of Brazil, Argentina, Bolivia and Paraguay and the North American prairies. The importance of these areas for diversity of species, as carbon sinks and providing essential rainfall patterns cannot be overstated."
It is estimated that by 2050 40% of the Amazon will be destroyed.
EU law dictates that supermarkets have to declare when a product directly contains GM ingredients, however there is no requirement for disclosing if meat sold has been fed GM feed.
This year, the amount of GM Soya planted in Brazil is set to hit 89% of all soya produced according to a report from Celeres, which provides data to the Brazilian government. Although a large harvest is expected, a shrinking amount of soya is now non-GM.
The Telegraph newspaper investigated GM soya in meat and found 'Every major supermarket in the country said it was unable to provide a guarantee that it was not selling products from animals given GM feed'.
If you are eating non organic or anything less than 100% grass fed meat, you are most likely eating GM fed meat.
Even "high-end'' retailers say only the more expensive organic ranges were certain to have been produced without any GM involvement.
But what effect is our growing reliance on soy having on the countries supplying Britain with this 'invisible ingredient'?
GM soya is 'roundup ready' meaning it is unaffected by the use of the Glyphosate chemical used to kill all the other plants in the field. The biotech companies selling the GM soya suggest this reduces the use of herbicides and that only one application is required; the Soil associations' recent 'seeds of doubt' report reveals that in reality most require several applications and that new 'super' weed problems have also emerged.
Land, local people and habitats are all suffering the terrible effects of increased use of this poisonous chemical. Local villagers report drifting toxic sprays and increases in birth deformities of their children. Groups of indigenous people along with small farmers who have traditionally worked the land claim they have been driven from their land by the soy farmers. In many of the soy producing countries there has been violent clashes and fights over land have led to many deaths, thousands of arrests and hundreds of injuries.
Recently the International Agency for Research on Cancer (IARC) – WHO's cancer agency – said that glyphosate, the active ingredient in the herbicide made by agriculture company Monsanto, was "classified as probably carcinogenic to humans".
References Used for the above text 100% grass fed meat.
Dewailly E, Blanchet C, Lemieux S, et al.(2001). n−3 fatty acids and cardiovascular disease risk factors among the Inuit of Nunavik. In Am J Clinical Nutrition 2001;74::464-73. Retrieved fromhttp://ajcn.nutrition.org/content/74/4/464.full
Mann, G.V., Shaffer, R.D., Anderson, R.S., Sandstead, H.H. (1964, July). Cardiovascular disease in the Masai. In Journal of Atherosclerosis Research (Vol. 4, Issue 4, pp. 289–312).
Domínguez-Rodrigo, M., Pickering, T. R., Diez-Martín, F., et al. (2012). Earliest Porotic Hyperostosis on a 1.5-Million-Year-Old Hominin, Olduvai Gorge, Tanzania. PLoS ONE, 7(10), e46414. doi:10.1371/journal.pone.0046414. Retrieved from http://www.ncbi.nlm.nih.gov/pmc/articles/PMC3463614/
M. Henneberg, V. Sarafis, K. Mathers. (1998, December). Human adaptations to meat eating. In Human Evolution(Vol. 13, Issue 3-4, pp. 229-234).
Gunnars, K. (n.d.). Is Red Meat Bad For You, or Good? An Objective Look. In Authority Nutrition. Retrieved from http://authoritynutrition.com/is-red-meat-bad-for-you-or-good/
Kresser, C. (2013, March). Why Grass-Fed Trumps Grain-Fed. In Chris Kresser. Retrieved from http://chriskresser.com/why-grass-fed-trumps-grain-fed/
Daley, C. A., Abbott, A., Doyle, P. S., Nader, G. A., & Larson, S. (2010). A review of fatty acid profiles and antioxidant content in grass-fed and grain-fed beef. In Nutrition Journal, 9, 10. doi:10.1186/1475-2891-9-10. Retrieved from www.ncbi.nlm.nih.gov/pmc/articles/PMC2846864/
Gunnars, K. (n.d.). Top 8 Reasons Not to Fear Saturated Fats. In Authority Nutrition. Retrieved from http://authoritynutrition.com/top-8-reasons-not-to-fear-saturated-fats/
Kresser, C. (2013, April). The Diet-Heart Myth: Cholesterol and Saturated Fat Are Not the Enemy. In Chris Kresser. Retrieved from http://chriskresser.com/the-diet-heart-myth-cholesterol-and-saturated-fat-are-not-the-enemy/