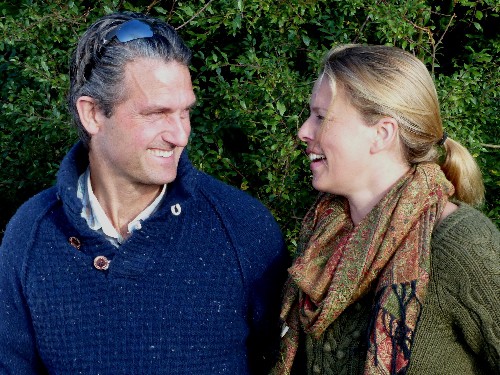 Introducing myself – Caroline Grindrod (Watson)
My real passion for animal welfare came about when getting my first weekend job at the age of 14. I worked in a nearby battery egg farm, an experience that shaped my disgust over man's treatment of animals in the pursuit of cheap food. My job usually entailed sorting 'pooey' eggs, but one day we had to go in to the chicken shed and hand collect the eggs when the conveyor belt failed. The horror of this encounter will stick with me forever. The hens were in tiny cages squeezed in so tight they couldn't turn, had lost all their feathers, were bleeding, sore and lifeless. It wasn't just the shock that took my breath away, I hardly breathe for the smell of ammonia, I simply had no idea that we did this to animals to produce food!
My first career supported my love of the outdoors and my desire to protect its beauty, flora and fauna. I trained with the National Trust, qualified in Environmental Conservation and became a National Park Ranger in the Wharfedale, Yorkshire Three Peaks and Malhamdale areas. Working in and protecting some of the UK's most beautiful and delicate habitats gave me a real insight into man's impact on our planet and how farming has a critical role in the our planets future.
The following 10 years was spent co-running a 700 acre Fell farm near Coniston in the Lake District. Yew Tree Farm is one of the prettiest and well know Farms in the Lakes and was famous for having been owned by Beatrix Potter. We farmed Herdwick and belted Galloway Cattle, ran a bed and breakfast, tea room and a butchery selling the meat we naturally reared.
My time in farming gave me invaluable knowledge and insight into the challenges of farming in its various forms. Jon and I have now separated but Jon still sells herdwick from the butchery at the Farm.
I have come across many great farmers and some really bad ones. I realised that most people do not know ANYTHING about the hundreds of different systems used to produce their food. They chose a cellophane wrapped piece of meat in the supermarket and do not think about it more deeply than that. During my time at the farm I campaigned in every way I could to raise awareness and started my first on-line meat business www.heritagemeats.co.uk. I wanted to reward the farmers that care and punish the types of farmers responsible for some of the horrific scenes of animal abuse and neglect I have so often witnessed.
Then it all came together and my mission was clear!
I was invited to attend the 'Prince of Wales Summer School' this was an intense course in sustainable farming and food production. The Prince of Wales invited 18 representatives from the food and farming industry including small farmers, industrialised farms, multi-national brands, environmental bodies and supermarket leaders to create discussion and influence change on the topic.
There was expert speakers including the Prince himself, the Chief Scientist, Tony Juniper and leading scientists in Climate change, water resources, farming and food production. We visited Duchy Farm and some great Heritage Food producers, it was more than inspiring.
The experience fuelled my passion and has driven me to try and do something to help save the planet, improve the welfare of animals and improve the quality of our food.
My interest in food and nutrition has become an obsession and I have educated myself by reading avidly on the subject. I am a passionate foody, I adore cooking and have an insatiable interest in nutrition (particularly the paleo diet and primal diet). I'm a Certified 'Primal Blueprint Expert.'
I have happily discovered a way of harnessing my experience and knowledge, embracing my passions and making a difference in the world. By working with like-minded farmers, I get the pleasure of helping them sell their sustainable, high welfare, nutritious meat and working with equally passionate conscious consumers who fully appreciate the value of the produce we are offering.
To go a step further I have now qualified as a Professional educator in Holistic Management www.rootsofnature.co.uk which is a form of regenerative land management that balances the social, economic and ecological needs of farmers and land managers. With these skills, I can actively encourage and teach land owners to farm more sustainably and produce 100% grass fed livestock. This work I hope will further increase our potential supply as well as regenerate land to protect our planet for the future.